Easy Installation
Prepasted
Washable
Strippable
Includes Full Instructions
Crisp Digital Printing
7 18 inch Panels for Easy Handling
First Quality and Fully Licenced
Superior Materials and Maufacture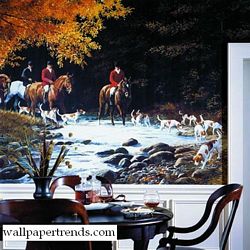 This fantastic mural captures a perfect moment and place in time. The sun is setting over the woods that overlook the remote and natural lake. The autumn leaves are about gone and the air is cool. The deer have come out to forage at the edge of the water. The lodge is warm and cozy while a boat at the dock is ready for some early fishing or waterfowl hunting. This scene offers a peaceful, natural atmosphere and relaxing tone and is perfect for any rustic lodge, outdoorsman or hunting theme.